ARTIST's resume
FABIENNE CLAUSS
Chasa Naivetta
Lüsai 67
CH-7534 Lü - Switzerland
Tel: +41-79 205 00 15
fabiennecc(at)yahoo.com
Version française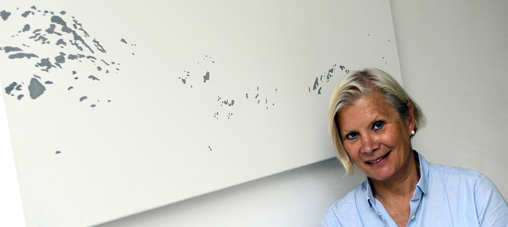 Photo: Peter Vann
Born in Paris, France. French and Swiss citizen.
Lives and Works in Switzerland.
•
Engaged in full-time practice of the arts since 2003
•
23-year marketing/communications career (1979-2003) at management level for major international consumer goods, luxury goods and Information technology companies
•
25-year management of a Foundation that takes care of Sherpa Orphans children in Nepal.
•
Traveled extensively since 1986 to discover and photograph mountains and deserts in America, Europe, Middle East, Africa and Asia especially in the Himalayas and arctic countries.
•
Languages: French (mother tongue), English (excellent spoken and written), German (good spoken and written), Romanche (written and spoken), Italian (written and spoken).
EDUCATION
2005-2006
Diploma, School of the Museum of Fine Arts, Boston, USA.
2004-2006
Graduate Credit Courses in History of Art, Harvard University, Cambridge, MA, USA: Contemporary Art, Japanese Art, Religion and Visual Arts, Islamic Book
2004-2005
Post-Baccalaureate Certificate, School of the Museum of Fine Arts, Boston.
2003-2004

Ceruleum Painting and Drawing School in Geneva, Switzerland – (non-credit, part-time)

1996-2003
Tempera Icon Painting workshop in St Jean-en-Royans, France.
1981-1982

Master in Business Administratiofn (MBA), INSEAD, Fontainebleau, France.

1976-1979
Bachelor's Degree in Business (BA), Ecole Supérieure de Commerce de Paris, France, Major: Marketing
INTERNSHIP
2005-2006

Department of Prints, Drawings, and Photographs, Museum of Fine Arts, Boston, USA
Catalogued 20th Century American Prints, Assisted in the installation of the exhibition on "Facets on Cubism"
December 7, 2005 to April 16, 2006
SOLO EXHIBITIONS
2020-2021
Galerie Peter Vann, S-chanf/St Moritz, Switzerland
2019
Librairie des Alpes, Paris, France
2017-2018
Galerie Peter Vann, S-chanf/St Moritz, Switzerland
2014-2015
Galerie Peter Vann, S-chanf/St Moritz, Switzerland
2015
Center da Sandà Val Müstair, Sta. Maria Val Müstair, Switzerland
2012
Galerie Michel Foex, Geneva, Switzerland
2008

Galerie Favre / art actuel, Nyon, Switzerland
GROUP EXHIBITIONS
2021
"Nature" Galerie Peter Vann, S-chanf/St Moritz, Switzerland
2018
Galerie Peter Vann, S-chanf/St Moritz, Switzerland
2012
Exposiziun da Nadal, Chastè da Cultura, Fuldera, Switzerland
2007
December Show, School of Museum of the Fine Arts, Boston
2006

Kiki Smith Medal Award Dinner, A juried student exhibition and Auction. Museum of Fine Arts, Boston

Scrolls, Open Space, School of the Museum of Fine Arts, Boston

Graphite plus Two, BF Gallery, Boston

Juried Paper Show, BAG Gallery, School of Museum of the Fine Arts, Boston – 3 pieces selected

Open Studios, School of Museum of the Fine Arts, Boston

Student Annual exhibition, School of Museum of the Fine Arts, Boston. Honorable mention for the Dana Pond Painting award

2005

Jim Dine Medal Award Dinner, Student exhibition and Auction, Museum of Fine Arts, Boston

Small Talk, Open Space, School of the Museum of Fine Arts, Boston

Terra Incognita, BAG Gallery, School of the Museum of Fine Arts, Boston – Curated the Show

Open Studios, School of Museum of the Fine Arts, Boston

2004

Post-Baccalaureate Exhibition, School of Museum of the Fine Arts, Boston

Ceruleum Exhibition, Geneva, Switzerland (work featured in local newspaper)
PUBLICATIONS
2010
La Grande Neige, Editions de l'Astronome, France
1996

Benoit Chamoux,
Petit Prince de l'Himalaya, Solar, France




In private collections in USA, Italy, France and Switzerland.



10/2020